2.37 Majestic 4K Cinemascope Screens
The best fixed screens for JVC, Epson, Sony, BenQ, Optoma, Sim2 and Christie projectors. This screen format is for use with an Anamorphic lens or zooming projector like the JVC, Sony or Epson range. Standard ratio made is 2.37:1 but other formats available, 2.35, 2.39, 2.40:1 etc. Just ask.

The Majestic Scope Screen is our flagship 21:9 format screen. For the ultimate in image reproduction and build quality. The Majestic Scope screen features a newly designed 75mm wide alloy frame, clad in the World Famous Black Fidelio Velvet by JB Martin for the ultimate finish.

Acoustic Vision 4K woven materials meet or exceeds all the industry standards for outstanding video and acoustic performance. With a 1.16 gain, Acoustic Vision delivers reference quality reproduction of the digital image combined with true high fidelity of the soundtrack, perfecly in synch with the on-screen image.

Evo Ultra 4K yields accurate spectral response and white field uniformity standards with a 1.26 gain for bright colour rich images. The black backing prevents light leakage and it's Ultra smooth viewing surface allows for extremely high focusing from your projector. Evo Ultra 4K exceeds all industry reference standards for digital video and is the equivalent of optical perfection in the home cinema screen industry.

Designed for the new batch of Ultra Hi-Definition Projectors including resolutions of up to 8K and beyond.
Fidelio Velvet is the blackest material on the planet and should be considered the must have border on any projection screen frame. Up to 25 times blacker than competitors imitation velvet (flocking), See for yourself right here. Fidelio velvet soaks up overscan better than anything on the market, creating the 'disappearing screen' with a razor sharp defined edge to your projected image. Fidelio is exclusive to Oz Theatre Screens and comes standard on all Majestic Screens.

Oz Theatre Screens is also the only manufacturer of high end screens offering a lifetime warranty.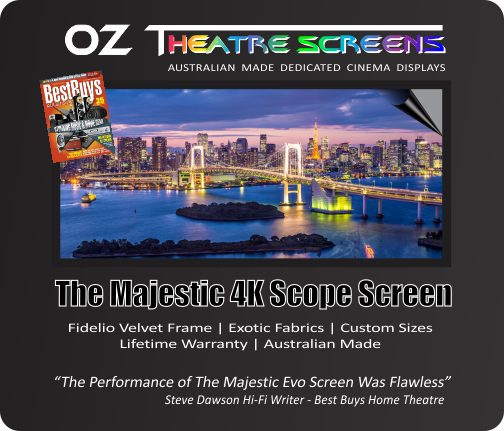 Unrivaled quality and pricing. Hand crafted in Australia using quality Australian alloy, the blackest Velvet on the market and exotic European Projection foils. The Majestic Screen is the only screen you are ever likely to buy! The best choice in dedicated fixed frame screens bar none.
Absolute World Class Quality.

Hand Crafted in Australia to last a lifetime.

All componentry from Australia, Europe and USA.

World's blackest frame with Fidelio Velvet. Up to 25 times blacker than the competition's flocked (imitation velvet) frames.

Complete Velvet Wrap Arounds on all 4 sides of frame mitres plus inner and outer edges.

Exclusive Projection Foils from Europe made only for Oz Theatre Screens.

World's Best Warranty - Lifetime.

Straight forward assembly.

Factory Direct Pricing with no distributor markup.

Most talked about Home Cinema Screen on the stereonet forums.

Custom sizes and formats at no extra cost.

Pricing in Australian Dollars includes GST.

Free Shipping to your door Australia wide with COPE Sensitive freight! Save up to $350 in some areas!

Talk Direct with the Manufacturer for the best advice on throw distances, sizes and seating positions.
Contact sales@projectorscreens.com.au for details. Click here for technical information on our screens.
For any questions or advice call 07 5546 1960 or 0402 424 177 and talk direct with the manufacturer regarding screen size, format, seating distance, throw distance and Projector type.